A Day Out
More of a morning out as it's now only 11.19am and I've been home long enough to grind some beans and make a cup of coffee.
I decided to visit Fremantle Markets this morning in search of props. I got into Freo about 8.50am and discovered that the Markets open at 10am on public holidays, not 9am as I thought.
My prop hunting was completely unsuccessful - all I ended up buying at the Markets was a box of Fuller's Earth and some coffee beans (Australian Wombah), however...
On the way to the Markets I walked past an internet cafe and had the strangest sensation - the only other people about were obviously tourists (cameras, bum bags and maps a give-away) and I had the definite feeling that I was also a stranger in town. I've been to Freo many times but this is the first time I've ever felt like a tourist. Interesting sensation, so I went and had coffee and fruit toast for breakfast in a cafe I've never been to before and then wandered around looking for things to take photos of.
The town hall clock and an attractive building later (see below) I was distracted by Elizabeth's Second Hand Bookshop. I went upstairs to see the el cheapo book selection and was drawn to the drama section. I'd already been through the section downstairs and was surprised to see one upstairs. I was delighted to find a book entitled "Before You Start - Macbeth", an educational primer for understanding the play based on the Ian MacKellen/Judi Dench production (of which I have the video). I then found "Reading Hamlet" in the same series; this one based on the BBC production with Derek Jacobi. And then, I found this...
At last!!!!

It's the BBC companion book to their Shakespeare series of the 70s. I have been looking for this for about 7 years, ever since I first saw the video. I have looked in nearly every second hand bookshop and Oxfam in England (and Scotland) for the damn thing and it turns up in Fremantle. For $2.50!
Thrilled with my purchases I trotted off, turned the corner and found the other Elizabeth's in Fremantle. Thinking that I could never be this lucky again (I'm on the hunt for the BBC Hamlet book) I has a peruse through their drama section, where I found the BBC Tempest, Measure for Measure and Henry VIII. Unbe-bloody-lievable. The Tempest starred Michael Horden as Prospero, David "Ford Prefect" Dixon as Ariel, Nigel Hawthorne as Stephano and Warren "Dalziell" Clarke as Caliban.
David Dixon and Michael Horden.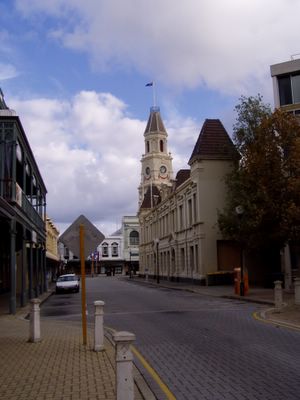 Town Hall Clock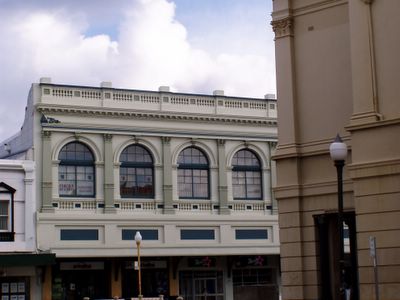 A rather attractive building.