A foggy start to the day
A right pea-souper out my way this morning. Dad, who lives south-eastish of me, didn't get any fog at all. Then the sun came out and it all went away. It's been a pleasant day, albeit cold. I'm sure my British friends will scoff at my definition of 'cold'. It was about 9c as I was walking to a meeting with the boss at the other end of the Zoo this morning.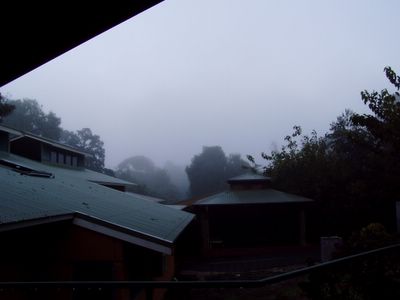 The city is in there somewhere...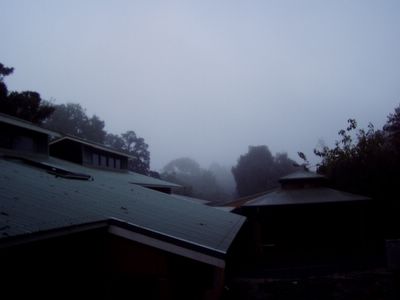 Fog!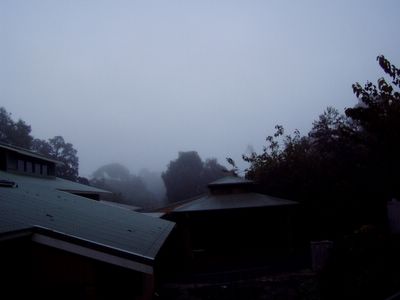 More fog!

Took the picture below last night. Shot doesn't do the colours justice.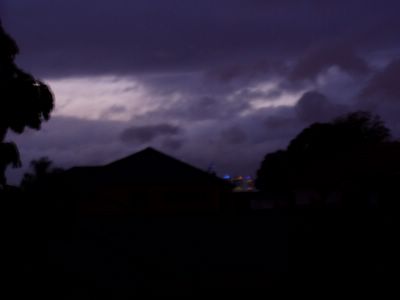 Some rather cool clouds, taken last night.

Well, I won the V and B Iris creamer - Au$13 or thereabouts. And I'm counting down to the end of bidding on an Evening in Paris scent bottle that I really, really need for the play! I also need an Evening in Paris lipstick from the same era - I've seen a photo on Ebay (lost the bid, unfortunately) and I know I've got something similar somewhere here. It used to belong to Mum and I can't for the life of me find it - I wouldn't have thrown it out.
Made a few more props last night - a rosary, set of cufflinks...and something else. Ah, a couple more ration books.
Got a letter from the Post Office today - it had a card inside advising that there are two parcels waiting for me. They've never put the card inside an envelope before; maybe they were getting eaten by snails lurking in letter boxes. I've had that happen before. I emailed the PO today asking if they had any old telegram envelopes lurking in the dust; I think my chances are very slim.
"SOLO "MACBETH" AT THE ALMEIDA
Steven Dillane is to perform a one-man "Macbeth" at the Almeida this autumn." He'll be knackered!